Cold feet about renting a houseboat in winter?

Staying at a houseboat is getting more popular every year. But for some people renting a floating holiday home during the cold winter months is sometimes a step too far. Cold feet, so to speak.

People often say the climate aboard is a reason not to book a houseboat. Its lack of amenities supposedly is another reason. Let's have a look at the main concerns – and debunk them one by one. We will be focusing particularly on moored houseboats rentals such as the ones located on rivers and canals of Amsterdam, Rotterdam, London and of course Paris. Driving houseboats will be featured separately.

In Amsterdam even the oldest houseboat, some over a hundred years of age, are very well insulated. (Photo: Maarten Brante)


Myth #1: Houseboats are cold during the winter


It's a reasonable assumption: houseboats lay in the water and in extreme circumstances even in the ice, so they must be cold during winter. This was true during the 50's, 60's and 70's of the previous century when houseboats were poorly insulated, if insulated at all. However, roughly since the 80's the insulation of houseboats has been greatly improved. Actually a lot of houseboats are at least as comfortable as high end apartments.

Since floating homes are exposed to the outside air and water from all sides, it's of vital importance to have insulation all around the vessel. The Amsterdam houseboat owners have taken this art to a whole new level. As you can see on the images, all roofs are covered with a nice layer of snow, meaning that no heat is escaping from the inside. The latest development on roof insulation, is the green roof: a layer of Sedum and other plants that keeps heat out during summer and warmth inside during winter.


Myth #2: You have to cut your houseboat out of the ice


Getting stuck in the ice and next seeing your boat being crushed by it. This is like a scene from a disaster movie such as Endurance, where a wooden sailing ship gets crushed in the Arctic Sea. Actually it is, because in reality this will not happen in Amsterdam, Paris, Berlin or any other place where you can rent a houseboat – or you should have to rent one above the polar circle.

Modern concrete barges and steel ships are strong enough to withstand thick ice easily. So don't be afraid that you will have to cut away the ice around your houseboat during your holiday. We can actually only think about positive things of ice around your houseboat: you can start ice skating right from your holiday home!



Myth #3: Houseboats are damp during the winter


Another reasonable thought: the big difference in temperature between the inside and outside of the boat will cause damp and condensation in the boat. Luckily, in reality this is not different from any other apartment: by avoiding thermal bridges you avoid condensation and a damp atmosphere inside the houseboat.



Both traditional ships (left) and modern concrete barges (back right) are renovated or built with the highest insulation standards in mind. The layer of snow on the roofs proves that no heat is escaping from the inside of the boat. (Photo: Maarten Brante)



Myth #4: You get cold feet on a houseboat


Actually, the opposite is true in most cases. Apart from good floor insulation, you will find a lot of houseboats that are equipped with floor heating. This creates a very comfortable atmosphere. And there are many houseboats that offer a wood stove burner as well. We can not think of a more cosy way to stay warm during the long winter nights. Picture yourself in front of the wood stove with your beloved ones, floor heating on, glass of red wine at hand. Not a bad picture, right?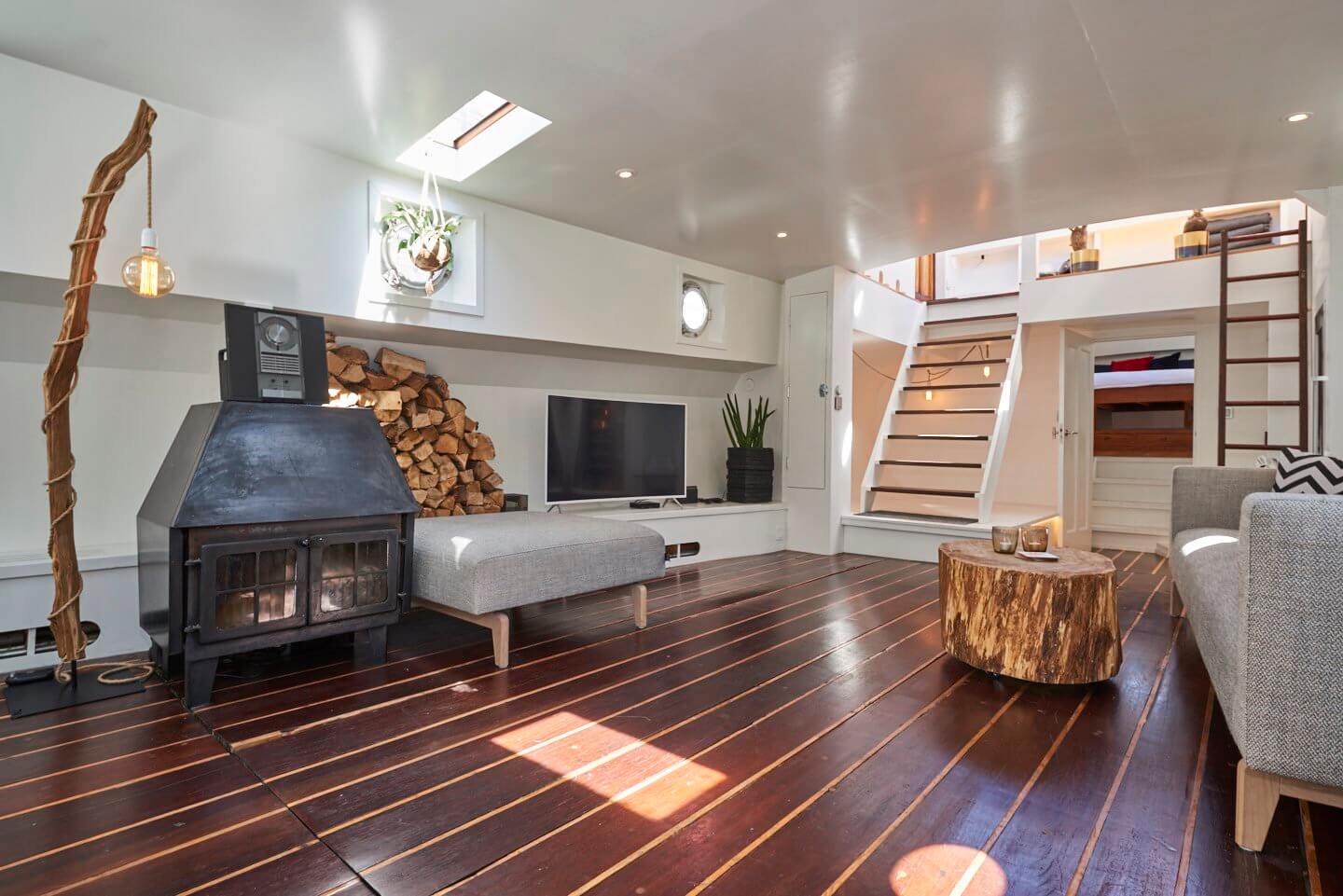 Many houseboats are equipped with floor heating and a wood stove burner for extra comfort. 



Myth #5: I will have to change gas bottles since houseboats are not connected to the gas system


Not true: the majority of the houseboats have been connected to the gas networks. And those who are not connected are heated by either electrical heating and/or use a heat exchanger and heat pump to generate warmth in a sustainable way.



Myth #6: The water hoes and sewage pipes will freeze


Any responsible houseboat owner will take care of this matter by applying electrical heating tape to the water and sewage pipes outside of the houseboat. This way both the water pipe and sewage discharge pipe are insulated against low temperatures that could otherwise freeze them, especially when exposed to the cold winter winds. This will keep everything flowing properly so you can enjoy your houseboat holiday without worrying about frozen water.



Myth #7: The inside of a houseboat is dark during the winter


We dare to say that people who own a houseboat know how to create a warm and cosy atmosphere like no other. And yes: the Dutch are especially good at it. They even have a special word for a cosy atmosphere: 'gezellig'. So be assured that the winter time is a great time to rent a houseboat, like in Amsterdam!

How picturesque Amsterdam can be during the winter period!

Text by Bookahouseboat.com, Images by Maarten Brante